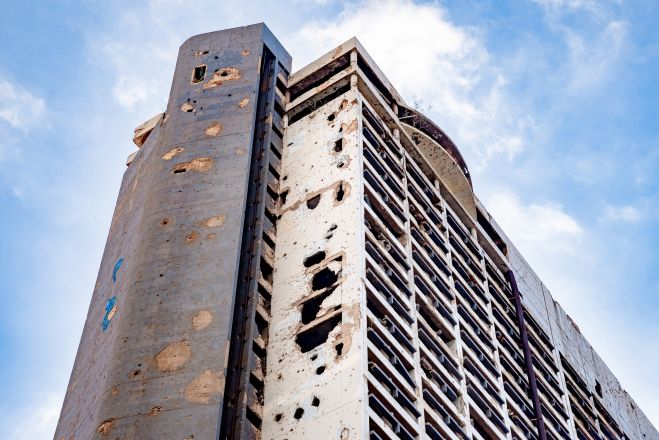 Beirut: Everybody knew about the explosives, where they were going and what they did - but everybody did NOT do anything!
Why?
The blast wave is through, the smoke has settled, and Beirut is extinguished as a city. Up to 300,000 are homeless, and the number of dead and injured is continually rising. (We reported HERE)
It seems that the shock wave in the air and the shock wave through the earth hit what could be called "southern quality cement" and made it crumble. From the foundations up the walls to the roof of the residential towers, everything has become quite crumbly.
Therefore uninhabitable.
As soon as the summer ends, the rain falls and then moves into the open crevices, the case gets worse. Destroys then also the steel in the concrete. Collapsing buildings will now be part of everyday life in Beirut, continuing the catastrophe and causing more deaths and injuries.
Reason enough to ask a few other uncomfortable questions that are not covered in the reports.
The small coastal freighter "Rhosus" under the flag of Moldova and with the Russian owner Igor Grechushkin, who runs a shipping company letterbox company in Cyprus, buys 2750 tons of ammonium nitrate in Georgia in 2013 and wants to bring it to Mozambique.
And now let us play detectives:
Question one: Could the ship Rhosus carry 2750 tons?
It could. If you leave out enough fuel, you could have filled the capacity of the ship with 1600 m³ of cargo (without outer packaging).
Question 2: Could the ship then still travel this far to Africa?
No, it could not. It probably had to make a fuel stop every few hundred sea miles.
Question 3: Did they in Africa know that this cargo was coming?
No, they did not. But Beira in Mozambique should have known because this kind of dangerous cargo has to be declared. But this cargo was not stated in the port of destination.
So the freighter with its explosive cargo arrived near Beirut, had a breakdown and headed for the next port. That was Beirut. From then on the trouble started, because the shipowner, Igor Grechushkin, could not be reached anymore. And it also turned out quickly that the crew had no more supplies, which the authorities didn't find amusing, because the journey should have lasted until Mozambique. Money was also not there—neither for berthing fees nor provisions and certainly not for the repairs of the vessel.
That was then even in utmost corrupt Lebanon a bit too much, and the steamer got chained, which made the cargo now a problem for the authorities.
The authorities made warehouse 12 available and transferred the now confiscated cargo there.
Why warehouse 12?
Perhaps also because it does not belong to anyone. At least no owner can be found at the moment. That may be a coincidence. Or bad luck. Or a consequence of what passes for a land registry in Beirut. The bottom line is that no one wanted to pay rent, because after all, the ammonium nitrate was stored there until a few days ago. In this context, it should be mentioned that the owner of the warehouse still hasn't contacted Beiruts authorities, especially since his property is now also located in a flooded crater.
Question 4: Is that normal in Lebanon?
Yes, it is, especially when it is worth it, for everyone.
But why should something like this be worthwhile?
It's simple. The answer can be found on the timeline. In 2013, what is commonly thought of as civil war in Syria began. The good people rebelled against the evilest dictator Assad. Good and evil quickly found helpers and Syria became what we see in pictures today. Or not anymore. Towns disappeared in mountains of rubble, and cultural monuments vanished into dust. This is what happened to Aleppo and Palmyra.
The latter was anyway only a 2000-year-old photogenic ruin, which was close to the author's heart.
So Syrians, Kurds, and ISIS henchmen - often with changing alliances and with the support of the Americans and Russians - bombed everything to the ground, looking on photographic motifs like Hamburg, Cologne, Tokyo, or Hanoi after the war.
It was clear that this did not make the people there particularly happy. And so they moved to all the countries and created what we know as a flood of refugees. Which then led to inevitable internal conflicts throughout Europe. At the end to social divisions to common cracks. To radicalization between good people here and evil fascists/racists there.
This issue has influenced certain elections in Germany as well. Certain parties have floated into the parliaments.
Question 5: What does this have to do with the ship and its cargo?
The explosion in Beirut did not cause 2750 tonnes to explode. Instead, the size of the crater and the damage it caused indicate that 800-900 tonnes of ammonium nitrate were converted, possibly enriched with other substances, it has been refined. In the narrower sense of increased performance. The smaller explosions taking place in the run-up to the main bangs and the colour of the smoke suggest that this is the case—also the sparking during the more minor explosions.
So if, and thanks to all known gods here, only 800-900 tons exploded, where did the rest of the explosives end up?
And here the answer is quite simple: where it was needed!
Question 6: Is it worth it?
The price of ammonium nitrate is 45 euros per kilo. One ton of pure ammonium nitrate costs around 250 euros (25 cents/kg) with a quantity discount depending on the supply situation. Here alone, the profit margin is enormous. Only it was not sold by the kilo, but by the ton. But from a local supply, which was easily accessible and circumvented all later embargoes. It was the discounter with zero risk surcharges for everyone who knew about it and could use it that way.
Question 7: Cui bono? Who benefits from it?
This question is not easy to answer in Lebanon. There is hardly a more corrupt country than this very country. The government may be elected, but the bottom line is that it works with the local mafia, has to take clan interests into account and enjoys the interference of various states and NGOs.
And that in this context the confiscated ammonium nitrate was not stored safely can be assumed—neither safe to handle nor theft-proof.
In short: it just so happens that a ship with a cargo arrived in time to help smart local business people to make a considerable fortune.
The reason why the Russian shipowner did not get in touch maybe that his son has been studying IT in Scotland since 2014...
Question 8: Who knew about it?
Who knew that hundreds of tons of explosives were being shipped into the Syrian conflict?
Were those people murdered with this load?
Who were also driven to flee with it to MILLIONS?
All of them! And the reason is as simple as it is obvious. Beirut is not in southern Chile. Nor in Indonesia. It is not 130 kilometres north of the Israeli border, over which rockets are sometimes fired with pleasure. Gladly also self-made. And therefore Israel has a vital interest in knowing where this stuff comes from, how the terrorists obtain the material. And where and from whom. This even goes so far that the Israeli secret service Mossad informs our authorities about terrorist explosives storage facilities in Germany. And they haven't heard of 2750 tons?
After the official outbreak of the Syrian conflict, this very port of Beirut was probably the best-monitored port in the world. For surveillance flights, a shift plan certainly had to be drawn up, so that reconnaissance aircraft and drones did not collide over Beirut. Of almost all nations that did not already have warships cruising off the coast.
It is known, for example, that in 2018 ISIS bought large quantities. With money from oil smuggling to Turkey, which they extracted from the then still occupied northern Iraq and "exported" with tanker convoys. Despite boycott. Who does not believe it may ask the sons of Mr Erdogan. According to "rumours" they were the "importers".
And now to assume that the BND (Federal German News Service) didn't know anything is illusory. At the time of the cold war, the BND, which was ridiculed by many, had a better map of Moscow's sewers than its city administration. And of all regions, from which now refugees of all colours were streaming en masse, did he not have this region in mind? Didn't he know about the ammonium nitrate? Half of Beirut did. The local sources of the BND must have almost undercut themselves (!) to sell this information.
Question 9: And why has this not been stopped?
This is where it gets interesting. On the one hand, the misery of the Syrian population was THE topic. The evil Assad is throwing barrel bombs at residential neighbourhoods. The Islamists are blowing up churches and their faithful and enslaving Yezidi women. The latter, after all, was something that prompted Ms Bremermann of the BAMF (Federal Asylum Authority) in Bremen to make individual "favours" to Yezidi migrants. So it was certainly discussed.
Then, of course, all the excellent reports of the neutrally acting white helmets, which in constant succession showed us the effects of these self-built bombs.
They were followed by great selfies with the Chancellor, who happily grinned along. And, of course, knowing that there was a trail from Beirut to Syria whose crumb trace consisted of ammonium nitrate. It was almost already signposted. That the BND did not report this to the government is simply unthinkable. Especially since our gooey-looking refugee coordinator, Altmeier would undoubtedly have liked to have taken the opportunity to soften the flow of refugees by taking away this source of supply. That is logic. One would want to accuse him of that, especially since the mood in the population was boiling. At least since the Cologne Night 2015/16, however, they have not been quite so confident.
Since January 2016 there should have been a rethinking of what the contents of the warehouse in Beirut were prepared to accept as harmless.
And this suggests that they were probably not interested in reducing the misery in Syria.
Lebanon is French territory of interest. So Macron hurried there and was greeted as a murderer. Now that makes sense. Of course, the French knew about the freighter, its cargo and the ongoing business. Just like the Lebanese, the French knew that all other nations knew it too. Of the war profiteers. Of the uses to which it was put and the misery it caused and of the consequences, now visible, for Beirut itself.
Beirut may be corrupt like anything else, but the people there are not stupid. And then honest in their need.
The author may not even begin to speculate about why this stockpile of explosives for radical and extremist mass murderers was not dug up with international action. It's not like the Lebanese government could have threatened to use nuclear weapons.
Why did Israel, which certainly had justified and historically justified concerns for its security, stand by? That only happens when there is an agreement. Reliable agreements that the explosives will go exclusively to Syria. Otherwise, there would have been riots in Israel itself. Or "unexplained accidents" in Beirut. After all, Mossad is not precisely known for its restraint.
Why the USA and Russia watched is relatively clear: it did not concern them. They only flew over the war zone and had no troops of their own in the danger zone. And probably also helped themselves via intermediaries for their faction from the camp. They can't even be blamed for that.
Assad, Kurds and ISIS and other factions have certainly helped themselves. It seems that Assad's barrel bombs also contained enriched ammonium nitrate. And the ISIS explosives that blew away the World Heritage Site of Romans, Greeks, Persians, Sumerians, Assyrians and others in the region probably came from parts of it.
The question is, why was Frau Merkel involved in this?
WHY has Mrs Merkel been through this so far?
Uninformed? Certainly not. She was probably informed. She has also been notified with certainty about the cargo of this ship of risk for the greater region, which caused the refugee flows in the first place. The internal division of our country which has so far made possible customary cowardice in addressing sensitive issues? To sit them out? Most likely!
That may even have been their primary motivation. Especially back then. And especially then and especially to Cologne, where all the politicians ran around with panic in their eyes. The trivialization of the Night of Shame even continues to this day.
Lack of own options? Probably not. She was also quietly involved in the conflict between Greece and Turkey. Putting pressure on the Lebanese government would have been a cinch. It would have taken no German chancellor for more than ten minutes.
As detectives said: If everything can be logically excluded, then what is left at the end, however improbable, is the truth!
The author therefore really hopes that NOTHING more than question remains here. All possibilities have been named. Because if not, then what will then gladly be ridiculed as conspiracy theory could actually be the truth.
In the end, there remains one hope and one request.
We should hope that parts of the explosives did not get to Europe via the Lebanese clans. Too many times, our state has been threatened with the alleged presence of AK47 and grenades not even seriously to question it. Just now.
And then there is the request to help the Lebanese. Beirut has become almost uninhabitable, and winter is approaching. And it's getting freezing in Lebanon, too. Especially in the mountains, where many people now have to seek shelter with relatives. We don't have to look away here as well. Because if they don't succeed, they too may have to flee. And there we can help better - and also cheaper - than to welcome hundreds of thousands here again. - Even as a tip to Mrs Merkel!