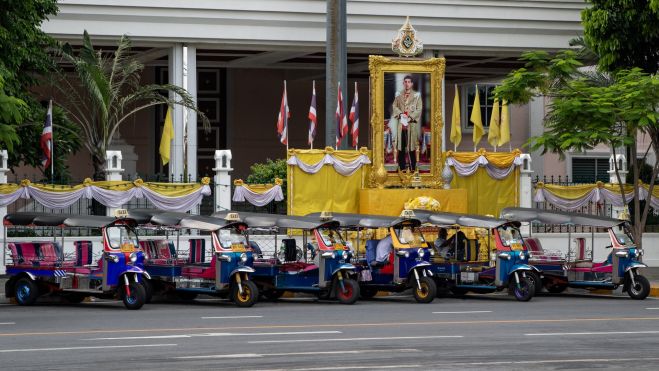 Rama X., the Thai problem king, is back on the international scene. One is not surprised to hear bizarre news from Bangkok, where Her Serene Highness is now staying. How long, nobody knows. Rama disliked the criticism from his Bavarian "brothel exile".
Omnipotent king from the Middle Ages

Rama disappeared from Bavaria when German Foreign Minister Heiko Maas took notice of the sociopath who had gone astray.
Rama, who likes to cycle through Bavaria in skimpy knickers, disregarding diplomatic etiquette, steered his brutal empire out of Germany. This is and was forbidden. Not that he forgot to pay inheritance tax in Germany on some 30 billion euros he received in 2016. That was the least of his problems, the immoral aristocrat is a big fan of torture, military junta and suppression of any opposition and kind. It was obvious that the cowardly blue blood had his people beaten up from Germany. Still the democracy movement and its protagonists are perceived by Rama as an insult to his majesty.
Torture jack
Sometimes the critics are sentenced to 40 years in prison, as was the case this week for a woman who expressed only mild criticism of the palace insanity. She has to serve 43 years. According to observers, she spoke her mind freely about the blue-blooded high-flyer in the skimpy blue partner jacket. But Rama has also been in trouble in the family circle in recent weeks, when he wanted to install two concubines in addition to his wife and queen. In the process, he got into an argument with his sister, who then had to go to hospital with broken bones.

Now he has appointed Koi as his second queen. It has been a hectic week for the monarch from another world.
The question is, can the world still afford such obvious autocratic sociopaths or is the king model a discontinued and superfluous model.
Historical freedom of jesters in Bavaria
Rama X, the Thai monarch, gradually becomes a nuisance in the Federal Republic of Germany. While everyone kept to the first restrictions imposed by the government, the king flew back and forth. Once to fly to Thailand for festivities.
Then again, he headed for various airports in the Federal Republic and practised the pilot manoeuvre touch and go with his passenger plane to satisfy his urge to renew his flying licence instead of taking a walk in semi-domestic Bavaria. But that wasn't all, the comical king, who had a Boeing converted into a flying luxury palace for himself, quickly obtained a special permit from the city of Garmisch-Partenkirchen when the curfew was imposed. This allowed him to stay at the Hotel Sonnenbichl, despite having his residence in Bavaria.
Why, was not clear even to the Court rapporteurs, who reported on His Majesty's frequent absences.

Not only since yesterday has the bustling monarch from Bangkok become a problem. We remember that his Boeing was once chained to a pledge seal at Erding airport in connection with unpaid debts until the Serene Highness loosened more than EUR 30 million. Maha Vajiralongkorn was then still a prince and had been living for years in a villa in Tutzing on Lake Starnberg.
He recently took a tight belly top off the parade of his followers at Munich's Erding airport. Rumour has it that he had conveniently gotten rid of his tired girlfriend from the private sphere by merely having her arrested and giving her a whimsical story about an acid attack as a reason. Before that, the man, who simultaneously had been crowned king in gold panties, had dumped his three wives.
But the Free State of Bavaria has experience with blue-blooded troublemakers, as one can guess from the story with Ludwig II.

Now, however, the comical king residing in Bavaria with his court, i.e. courtiers, lackeys and concubines, who until now could only be described as a little strange, mutates into a skilled torturer in diplomatic status. This, however, only behind closed doors because the blue-blooded man has everyone mercilessly persecuted who has something to criticize about him and his white royal uniform jacket.
As one could gather from numerous well-informed circles, the strange king had multiple persons from his entourage flogged and beaten on the territory of the Federal Republic of Germany. This is said to have happened on the fourth floor of the picturesquely located Hotel Sonnenbichl.
Torture is forbidden even for kings in Bavaria!
What sounds like a horror fairytale became a reality during the Corona crisis in Germany. The brutal monarch with a penchant for eccentricity in a protected status is to watch the films of courtly punishment for his pleasure later on. But that is not all. According to a report by the British journalist Andrew Gregor Mc Marshall, the aristocrat who has fallen out of his role maintains a kind of torture prison in Thailand. Where he has unpleasant characters tortured for a long time and then has the films shown in a variety of "best of" when he lives in his villa on his native Starnberg Lake.
All the circumstances of the monarch now call numerous human rights activists to the scene because Rama drives his royal omnipotence fantasies too far. It seems that Rama maintains the Thai torture prison because of his palace in Bangkok, as new investigations now reveal. Here the belly-free monarch is said to take particular pleasure in the suffering of the arbitrarily imprisoned prisoners. They have to drink urine, suffer from sleep deprivation and have to eat worms. While Rama appreciates the hearty Bavarian cuisine, countless prisoners are gnawing at the hunger cloth.
Rama X. is certainly not as easy to stroke as Rama's name, and in recent years there have been increasing reports of royalty's failures in apparent exile. Rama is not fussy with critics of his decadent courtly excesses. The man with the name Maha Vajiralongkorn, unpronounceable for Europeans, followed his father Bhumibol, who was very popular with the Thais, on the throne in a kind of fantasy costume garnished by a crown on his head. Otherwise, it is known about the bon vivant at the gates of Munich that he married his former bodyguard some time ago. Your Majesty will be ruthless, as his Master of Ceremonies recently threatened in the social media if criticism of the ruler is made. A journalist was arrested when the monarch came back to Zurich from a trip to his old homeland.

The question is, what can be done about the king?

Sources: Thailand opposition, German agencies
Read more...