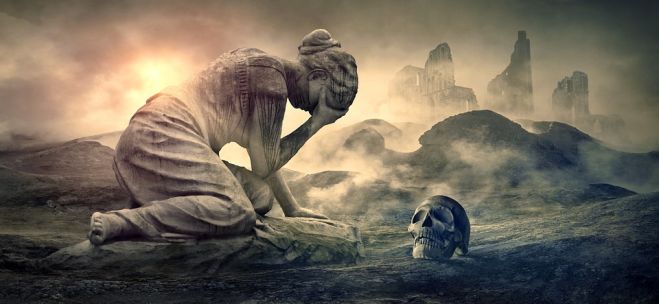 Apocalypse now
Surely humanity is used to a lot from psychics, fortune-tellers and prophets who emerge from the historical mothballs every year again to deliver the spooky predictions for the next twelve months.
This time, however, it seems different.
The seer from the Balkans, called Baba Vanga, accurately foresaw the events of the past twelve months almost 30 years ago. It should be noted that Baba Vanga has been dead for three decades.
She predicted Corona or COVID-19. Many of her predictions did not come true in the predicted years, but they did come true later, such as the September 11, 2001, attack on the World Trade Center, the 2004 tsunami disaster in Thailand, and other events that instilled great fear in humanity.
2021
Unfortunately, the seer from the Balkans has nothing good to report for the year 2021. Strange events that will cause Vladimir Putin to fall victim to an attack to be carried out by an employee of his bodyguard.
She has no good news for Donald Trump either, the American autocrat will suffer from a mysterious disease. This disease disintegrates his brain, as the woman put it when she was alive, leaving him a deaf, disoriented man.
Unfortunately, things don't look good for humanity either. In the year 2021, when the Earth's orbit is also supposed to shift due to a strong solar flare, there are violent floods everywhere and fights for living space.
Further trouble threatens humanity, especially in Europe, from invading marauders who are gradually depopulating Europe with chemical weapons and then taking it over. There are to be fierce terrorist attacks on the continent. These acts of war are to continue until 2025, leaving the continent of Europe simply deserted. Allegedly, three dragons will unite into one and wipe out humanity. There has also been speculation about whether biological weapons will be used to fight in Europe.
After these changes, Europe's economy is said to collapse completely.
There is to be famine and constant warfare.
In addition, it is reported by Baba Vanga that the first mission of humans to Venus is being prepared. However, this is being done secretly and behind closed doors.
However, she had one piece of good news for the year 2021, that a cure for cancer will be found, literally this disease will be locked up with iron. As she put it.
The seer from the Balkans had the same visions about the year 2021 as the seer Alois Irlmaier and the prophet and doctor Michel Nostradamus had already had in the Middle Ages. All three prophesied a year of catastrophes for 2021. We know from Baba Vanga that she had a hit rate of about 85% in her predictions. We can only hope that she was wrong in 2021 and that none of the bad events will actually happen.
Read more...