JUMPING OVER THE RAINBOW by Ronnie Van der Merwe Featured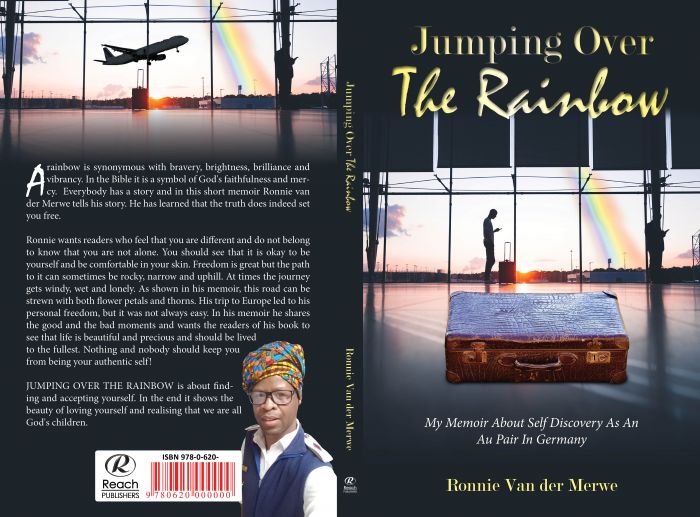 Ronnie van der Merwe, kasaan media, publishers, 2020
After IOL South Africa wrote about this excellent book, we didn't want to wait to ask the author for his own presentation.
The book is a prime example of modern South African literature, which is otherwise entirely unknown worldwide.
Van der Merwe describes the life of homosexuality in an almost loving way.
Thirty years after the end of Apartheid he leaves a figurehead for the path of the following South African literature, which finally says goodbye to the ghosts of the past and sets off into a time that critically deals with modernity. It describes the path of real South African art.
Our recommendation: buy and enjoy reading. Here the link to the book
Jumping over the rainbow ....
By Ronnie van der Merwe
My book titled: JUMPING OVER THE RAINBOW by Ronnie Van der Merwe is my debut book.
It was released this year March 2020 and I have self- published it. I will describe it as; short, compact and interesting. Holding a book in my hand written by myself has always been a long-time dream of mine. Dreams were made to be realized and I decided to go ahead and do just. My motto in life is: We create our own experiences. I wanted to be an author, so I created that reality.
On the back cover of my book I wrote: A rainbow is synonymous with bravery, brightness, brilliance and vibrancy. In the bible it is a symbol of God's faithfulness and mercy. My short memoir of only 41 pages is about my journey to self- acceptance and freedom. In my short memoir I write about how I had to go on an overseas trip to get the courage to accept myself and become comfortable in my own skin. However, this was not done deliberately.
I hid my sexual preferences before I went to Europe. In my book I talk about my homosexuality. My new surroundings abroad and my foreign encounters provided me with no choice but to change. This occurred very subtle. My au-pair experience was not always easy but in the end it paid off. It made my shell to crack open. I went to Europe as a very naïve and inexperienced young, black (in the closet) African man. I believed by going on this trip I jumped into the deep end of the pool and had to learn to swim very quickly. My book details all my experiences abroad and shows my vulnerabilities.
I decided to title my memoir- JUMPING OVER THE RAINBOW because I wanted readers of my book to see my desperation to get my freedom. I told my book cover designer that I wanted a vintage suitcase on a platform. The suitcase symbolises my love for travelling. I also wanted a rainbow in the colours of the gay flag which shows how proud I am of my sexual orientation. My book is about my life living in a foreign country and the challenges I faced. In it, I also write about the bad and the good times. I also speak about the beautiful friendships I formed. I wrote this book mostly to make everybody who is different, like myself, realize that they are not alone in this world. I wanted my readers to see that adversities can be overcome and that we all have a place in this world irrespective of our differences. But, I also wanted to make them aware that there is not always a pot of gold at the end of the rainbow.
In my memoir I talk about the few hardships I experienced with my host family. These challenges assisted me in becoming a stronger person. I want the readers of my book to see the importance of going out into the world and experiencing new things. I hope that my book will show my reader that ignorance can have a negative impact on your life. I believe that if I had been exposed to more opportunities prior to my trip to Europe I might have had a different experience. In my book I do not try to point my host family as cruel, evil or cold because they were not. I just give an honest account of what I felt and how things seemed. I am just trying to showcase in my memoir that as humans we are different and that we all have our shortcomings.
Since it was released my book have mostly been criticised for being too short. People say it is so well written and interesting and that they don't want it to end so soon. However, I have also had people who welcomed the short book. These people said it is perfect for them since they want to read but don't always get the time due to their busy work schedules. They therefore welcomed the quick, interesting read.
This is my first book, and I was just testing the water. However, I also wanted the readers of my book to see my talent and make them look forward to my next lengthier, thicker and exhilarating and adventurous books.
…………………………………….
JUMPING OVER THE RAINBOW by Ronnie Van der Merwe is available on Amazon in both paperback and e-book at $7.99. It is also available on Smashwords and Goodreads. The book is also sold at Walmart. It retails for R120.00 on Loot.co.za online in South Africa. It is also available at bookshops like Protea bookshop for R150.00. Book site Africa in Cape Town, the largest book warehousing and distribution facility to the South African book trade also have stock. Books can be ordered from Book site Africa via your local bookshop. The ISBN is 978-0-620-87091-7
Last modified onFriday, 04 September 2020 09:53
2 comments
Hi friends, fastidious piece of writing
and nice urging commented at this place, I am actually
enjoying by these.

What's up, its fastidious piece of writing on the
topic of media print, we all know media is a impressive source of data.
Leave a comment
back to top