News from D B Cooper Featured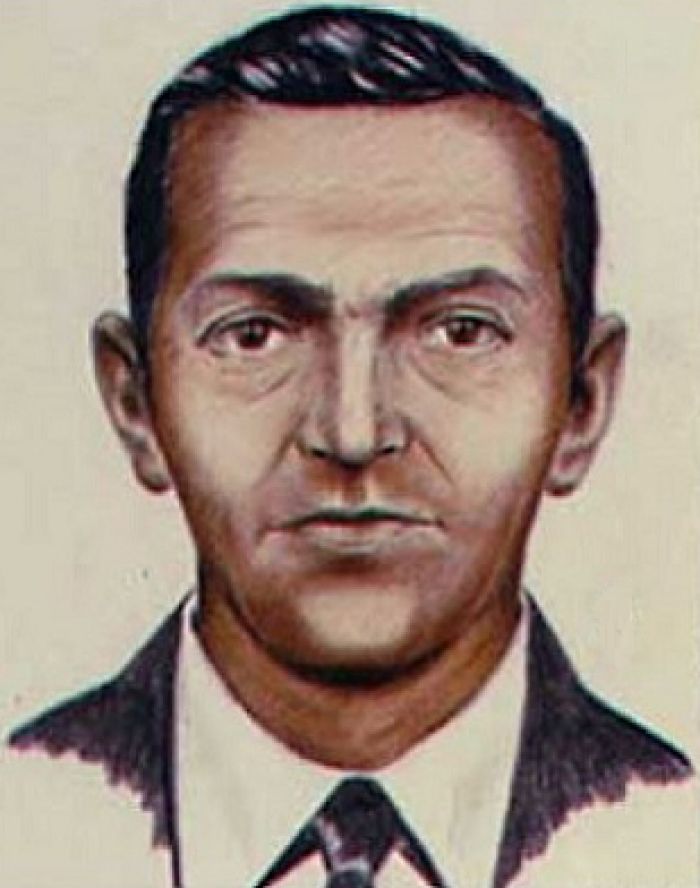 DB Cooper, FBI, 2015
Now it's supposed to be over, or maybe not. At least the FBI explained that the case has now been moved to the archives since the perpetrator probably can't be caught anymore.
Can you believe it?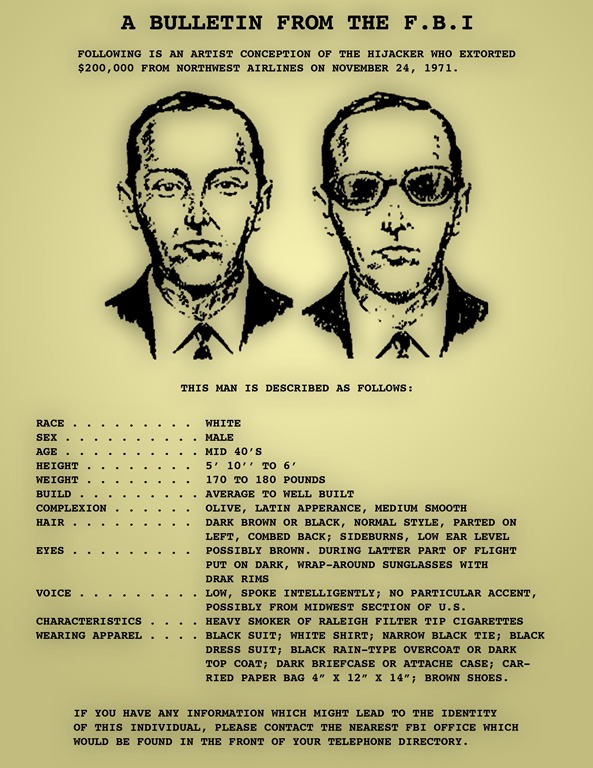 U.S. Federal Government - U.S. Federal Government FBI wanted poster for D. B. Cooper

America's most mysterious hijacking continues.

On the contrary: A whole series of "self-accusers" and a crude mixture of agent stories (If it was nobody, it was the CIA) accompany the still unsolved hijacking case of a 1971 North West Airlines plane from Portland, Oregon.

Remember, a man who called himself D Cooper, who later became DB Cooper for investigative reasons, hijacked an airliner on the eve of Thanksgiving 1971 from Portland to Seattle.

As if that weren't enough, he demanded from his comfortable seat, over gin without ice, showing the horrified stewardess a series of cables and red poles in a standard briefcase, US$200,000 and, believe it or not, four parachutes.

The US authorities, shaken by numerous Cuba hijackings in the days, supplied the US$200,000 demanded by Cooper and the parachutes, the plane was refuelled, and Cooper pretended to want to flee to Mexico. The hostages were released, no one was hurt, and the aircraft turned back around.

The Boing 727, which had a rear stairway, then offered the man, who jumped from about 3000 meters into the forests above the Columbia River, the perfect environment to escape the long arm of justice finally. He disappeared in his tailor-made suit through the "back door" of Boing 727, which had this staircase as a feature.

Years later, in 1980, a boy playing on the said Columbia River found US$5,800 from the naturally registered ransom in the sand of the dam. None of the remaining money turned up.
Now a young woman claims that the mysterious DB Cooper was her uncle, an award-winning paratrooper in the Korean War, who was commissioned by the CIA to arrange the kidnapping.
A certain similarity with the FBI wanted poster and the recordings of the uncle from those days cannot be denied.
However, why would the CIA have commissioned such a grotesque aircraft hijacking? Besides, why would the CIA still have parts of the ransom money buried at the site of the Columbia River?
DB Cooper, who is still wanted by the FBI, mutates more and more in the countless stories into a phantom, who after more than 40 years finally vanishes in the jungle of assumptions and rumours.
History is amusing in any case.
Last modified onSunday, 22 March 2020 12:26
back to top