US military base Ramstein must be at disposal Featured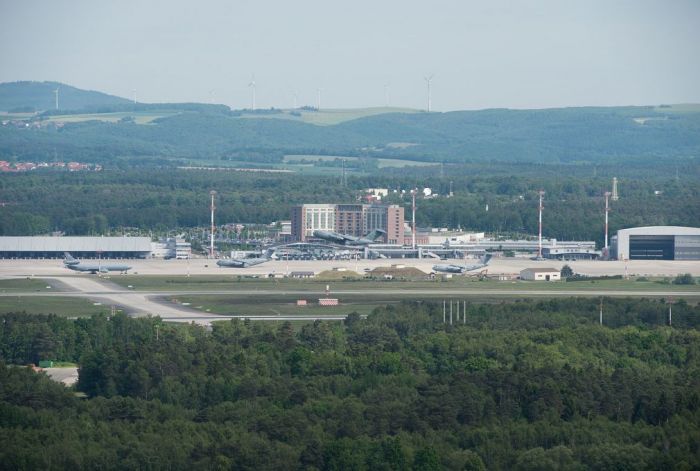 Von Beowulf Tomek - Eigenes Werk, CC BY-SA 4.0, https://commons.wikimedia.org/w/index.php?curid=78891793
Nobody wants the troops of a sick psychopath who lives on blackmail and stupidity
The friendship between the political USA and its Berlin counterpart has been cracking for many years. At the latest since right-wing populist Donald Trump pulled strings in Washington.
We need to talk about the military base at Ramstein.
It is about time.
And one must not mince matters.
Not only is the base an imposition for the population through the noise, exhaust fumes and environmental pollution, the airport, built in 1951, was built during the occupation. Within a European defence alliance, Germany is undoubtedly in a position to defend itself against whomever. But the enemies of the sociopath Donald Trump cannot be the enemies of the Federal Republic. The war against Iran is an American war, like Iraq, like Vietnam and countless others. Next one is North Korea.
As he lied to the audience during his campaign show, he wants to "make America great again", but please not at the expense of peace and the civilian population of another country.
"America first," Trump should feel every day.
Trump must be punished in every way. Every day. He is the guarantor of war.
First, who wants Trump in the country? He must understand that he and his doctrine are unwanted in the world.
Trump is not only forcing the dictatorship in his own country, but he needs the war against Iran to be able to abolish democracy in the USA.
Nobody is sure whether drones, which could even carry nuclear weapons, can be launched from Ramstein towards Iran, contrary to Obama's promise.
In the event of a possible military conflict, Iran would positively not bat an eyelid to attack the base with medium and long-range missiles. It would affect Germany. Trump is demanding more money for NATO in his arrogant way, without brains. He would not care about the deaths of tens of thousands of German civilians if only he would be re-elected.
One thing is sure, Trump and his Adlatus Pompeo will use every opportunity to wage war, to stay in power.
Therefore Ramstein must finally be consigned to history, and the withdrawal of the Americans from Germany must be decided.
Last modified onWednesday, 17 June 2020 17:17
Latest from news desk
back to top